(Above - Murciano - boulangerie and patisserie in the Rue des Rosiers)
Paris was once the place I most liked to visit. I would go every year, sometimes twice and always loved it. But over time my passion for the city cooled. I travelled further afield, got braver about destinations and almost forgot Paris. But they say old friends are the best friends and attracted by
Omer Avital's concert,
I spent three nights there earlier this week to see if it was true.
I planned to visit some old haunts, some places that were new to me and of course, to get a big slice of culture with concerts and exhibitions. I stayed at Bastille, a very short walk from the
Marais
, which has always been my favourite part of Paris. I first visited the city 22 years ago with a good friend and we arrived at St. Paul le Marais without having booked a place to stay. We spent the first night in an Algerian owned place on the Rue St. Antoine. The beds were fine but there was a smell of death in the bathroom and at breakfast we were offered coffee, jam and butter - but not bread! We moved to a Moroccan owned "hotel" on Rue du Roi de Sicile. It was called Palais de Fez. Palais it was not. But it
was
a great location, very cheap and extremely character forming. Our room was at the very top of the building - 6 floors and no lift. The toilet was on the landing, was shared with the whole floor and offered a most unusual grey cardboard material as toilet paper. The owner told us we had to be back before midnight or sleep outside. As if. Once we got that sorted things went swimmingly and I went back there several times.
You are thinking I digress? Well actually no I don't. Palais de Fez is no more (I notice it is now Holiday Apartments Selma - so may still be Moroccan) - and that is my point. The Marais has changed much in the last decade and continues to change now. Many of the little cafes, boulangeries and other quirky long established places are gone, replaced by boutiques, new restaurants and stores selling "lovely things". My beloved
Rue des Rosiers
is a case in point. Twenty years ago, most of the businesses were still Jewish, now only one end of the street has a majority of Jewish businesses with the remainder made up with some pretty uninspiring but expensive boutiques. Some trade on the former functions of their shops - the former Goldenberg's restaurant is now a clothes shop that retains the Goldenberg sign , whilst around the city a number of new shops have retained the old (and often beautiful) boulanger and patissier signs.
Some of the old favourites remain and I had my almost obligatory Hongroise (Hungarian strudel) at
Florence Finkelstzajn's patisserie and cafe
(pictured above), a slightly different version of it at rival
Sacha Finkelstzajn's
and a poppy seed cream cheese and tomato bagel (I hate salmon) at
Korcarz
bakery and cafe. I also had my favourite "choice of five" at Chez Marianne - humous, falafel, fried aubergine and tomato, halloumi and tzatziki with pitta. Some things never change. Except perhaps my waistline. That damn spiral staircase to the toilet at Chez Marianne's always was a nightmare to squeeze up and down, even before I grew into my clothes. And it won't be just me as devotion to falafel seems to have reached addictive proportions with some staggeringly large queues outside the take away places.
And still on the subject of food, I have a new favourite destination.
Carette
at Place des Vosges. It has a beautifully decorated, Belle Epoque stye interior with some pretty wonderful patisseries on view and possibly the best hot chocolate I have ever had - served in a silver pot no less, containing at least three cups! Not to mention a wicked cherry clafoutis too. A great way to pass an hour or so on a chilly winter evening. Sadly - the last of the dusty antique shops on the Place has disappeared. There were once several but now there are none. Not boutiques here, but private art galleries and posh restaurants and cafes (like the Carette!).
Enough with the food. What of the culture? I managed to squeeze in two concerts and three exhibitions as well as some serious leg work to look at some of the city's best art nouveau architecture and some modernist masterpieces too. I will post separately on the architecture, suffice to say for the moment it was tremendous and I spent one of my happiest days for some time on Friday walking through the 16th arrondissement admiring its majesty - but that's for another time.
I had planned to visit two of the exhibitions that I saw - the incredible
"Bohemes"
at the Grand Palais and "
Les Juifs d'Algerie"
at the Museum of Jewish Art and History. The third one was a bonus that I squeezed in on the spur of the moment. The Bohemes exhibition was truly inspired. It is a study of the use of the word "Bohemian" and especially its former use to describe nomadic people in Europe - collectively referred to as gypsies.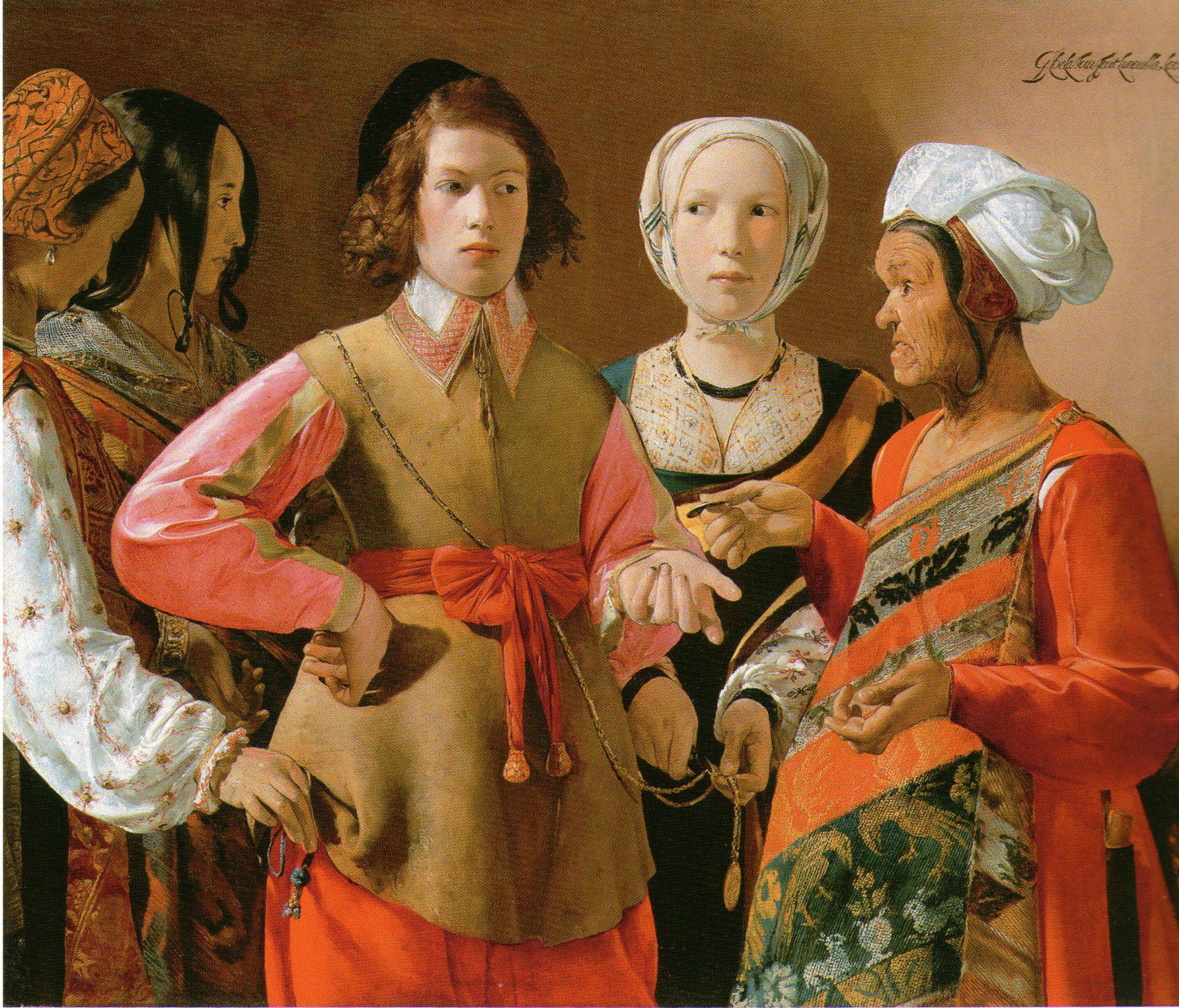 The exhibition includes early artistic representations of these people. Interestingly, they are displayed as saintly - sometimes as being connected with the holy family of Christianity (apparently during the middle ages there was a belief that gypsies came from Egypt and this may be how the link was developed) or as thieves and undesirables (see the Georges de la Tour painting above). Other artists showed them as people leading an idyllic lifestyle, at one with nature. Of course, none of this was particularly true and the Hungarian paintings from the late 1800's by artists such as Karoly Ferenczy who took a more realistic approach showing gypsies looking after their children or performing everyday tasks. But my favourites are the works by German artist
Otto Mueller
who spent some time living with gypsies and painted a series of portraits in the 1930's - pictures later displayed by the Hitler regime as "degenerate art". (one of which is pictured below).
"Boheme" also tracks the involvement of gypsies in the arts, especially music (a wonderful soundtrack is played in the background as you navigate the exhibition - you can buy the CD in the shop) and theatre. This then trips over into portrayals of gypsies in the arts, especially the operas Carmen and La Boheme. The appropriation of the word "Bohemian" to describe a particular kind of "artistic" lifestyle follows, with references to starving artists in garrets and significant amounts of posing and posturing from writers and actors.Moving on, the late 19th century saw the development of cafe society as a type of Bohemianism. There are even some cafe chairs and tables set out to provoke the imagination of the visitor.
Gypsies, like many nomadic peoples, have been persecuted over the centuries, culminating in the German attempt to eradicate them physically during the Second World War and this is referred to in the exhibition. It is also pointed out that France did not repeal all of its anti-gyspsy laws until the late 1970's. A great, stimulating exhibition with a wonderful mixture of mediums, well labelled - including with summary panels in English (thanks!) and hopefully one that will travel to the UK too. A word of warning. If you are going to see this exhibition. beware, the Grand Palais does not have a cafe - I was gasping at the end of my visit!
It is 50 years since Algeria secured independence from France after a long and bloody war. A numberof exhibitions have been staged in Paris this year to commemorate this anniversary. "Les Juives d'Algerie" is an excellent exhibition covering an often overlooked and sometimes purposely ignored part of Algerian history. Jews have been present in North Africa for centuries and Algeria had one of the largest communities. Always second class citizens (despite the romantic stories of a harmonious and equal society, much beloved by some commentators), the Algerian Jews had periods of relative peace and prosperity alternated with periods of vicious suppression and pogrom. These issues are well covered in the exhibition including footage of a series of anti-Jewish activities in the city of Constantine over a number of years, including pictures of knife wielding Arabs, bloodied ground and wrecked Jewish homes and businesses. It is also little known that during the French collaboration with the German occupation in the Second World War, Vichy France established concentration camps in North Africa where many Jews were persecuted and died.
Above - a Jewish family in Constantine, 1881.
The exhibition also examines the cultural life of the Algerian Jews. It contains many beautiful religious objects, clothing and household items as well as paintings and photographs of leading comment members and of everyday community life. My favourite part of the exhibition however, is the final room which features Algerian Jewish singers and musicians. This includes the wonderful female singers - glamorous and provocative Line Monty, Reinette L'Oranaise a blind Jewish woman and possessor of a big big voice and also Alice Fitoussi. Then there are their male counterparts - Salim Halali, Lili Boniche, Enrico Macias, Blond Blond and my favourite Maurice El Medioni who I was lucky enough to see twice in Israel a couple of years ago. There are interviews and live recordings of several of the artists as part of the exhibition together with some wonderfully nostalgic album sleeves on display.
Above - Jewish musicians in Algeria, undated.
I knew about the musicians but I didn't know about the tradition of Algerian Jewish boxers, with a number of champions coming from the community. Robert Cohen and Michael Atlan were national champions whilst bantamweight Alphonse Halimi (pictured) became world bantamweight champion in 1957.
So where are Algeria's Jews now.Not in Algeria. Systematically marginalised before and during the War of Independence and driven out afterwards, they went primarily to France and Israel although some also went to the Unites States. In 1948, it was estimated that 140,000 Jews lived in Algeria. Today there are none.
There are a number of good websites that carry information about the Jews of Algeria and of North Africa generally.
Point of no return
is an excellent site with frequent postings, illustrations and videos. Also of interest is
Jewish Morocco
which includes features on North African Jewish musicians from across the region. Click below for a taste of Jewish North African music from Lili Boniche.
My third exhibition was the small collection of Soutine works on display at the
Orangerie
. I love Soutine's portraits, slightly threatening landscapes and his series paintings of gladioli. The portraits are probably my favourite, showing a range of people employed in different pursuits, a waiter, a bellboy, a maid - all people who might be invisible to those they serve but in whom Soutine recognised hopes, dreams and ambitions and more often sadness, disappointment and resignation. His figures are often distorted with long thin necks, narrow heads, large and awkward hands - all adding to his description of the subject's condition.
I have to admit I have never been keen on his still lives of pieces of meat. I find them threatening and aggressive. I am disturbed by the thought (and sometimes image) of the blood of the slaughtered animal - which must mean his work is effective! There are just 22 paintings are on display but its well worth a short trip as the admission ticket covers the whole Orangerie and so gives access to the permanent exhibition too with its early works of Picasso as well as Cezanne, Derain, Laurencin and more.
So, what was my verdict on my return to Paris? Yes, some things disappointed me - the disappearance of old friends - Hotel Central in Rue Vielle du Temple which is now a jewellers and the final demise of Goldenbergs - whilst it stood empty I still had hope (!). But many more things delighted me - the terrific concerts of Omer Avital and then Eddie Henderson at the Sunset Jazz Club. The two cracking major exhibitions reviewed above and also, not yet mentioned, the seemingly super efficient metro - which has seen some investment in recent years. Most of all, I was thrilled with my architectural walks which I will write about separately. I even met some friendly and interesting people whilst searching out art nouveau and modernist gems. Will I be back soon? I think I just might.