The desire to to re-establish a Jewish
homeland in Eretz Israel began with the taking into captivity and carrying into exile of many Jews by the Babylonians in around 538 BCE. That desire and yearning lasted until the re-establishment of the State in 1948. Throughout that time, Jews living in the diaspora kept the memory of the land through religious rites but also through language, song and stories and in the case of early modern Zionist, Ephraim Moshe Lilien, through art.
Born Maurycy Lilien in Drohobycz, Galicia, then part of the Austro-Hungarian Empire, in 1874, he developed an early interest in art and studied painting and graphic techniques at the Academy of Arts in Krakow from 1889-1893. He went on to study under Polish symbolist
Jan Matejko
from 1890-1892. His artistic beginnings were a little humbler than this having been apprenticed as a sign painter before developing a desire to paint pictures. Interestingly, it is said that as this was such a strange idea for a young man from a small town, the
Rabbi of Sadagura
was consulted on this matter and advised that he be allow to pursue his ambition. Clearly the Rabbi was extremely enlightened and I am grateful to him for offering this advice!
Despite the progress made in Polish society by many Jews, including Lilien, anti-semitism was never very far from the surface and early on he became a committed Zionist and a member of the movement. From 1906 - 1918 he visited Ottoman Turkish controlled Eretz Israel several times. This included helping
Boris Schatz
, to establish the now world famous
Bezalel Academy of Art and Design
, teaching the it's first class in 1906. The Academy is still working and has a world wide reputation for innovation and artistic achievement. Lilien did not settle in Jerusalem but made a great impression on the Bezalel and more than that, on the development of early modern art in Israel.
Lilien pioneered the use of Biblical subjects within a Zionist context and in eastern settings. Together with
Ze'ev Raban
, also one of the glittering stars of the Bezalel, Lilien developed a unique approach to the prevailing art nouveau/ Jugendstil styles then prevalent in Europe, perhaps best described as Levantine art nouveau. However, it is Lilien's photographic portrait of
Theodor Herzl
that is the best known of his works today. As well as painting and producing graphic works, Lilien was an accomplished photographer, securing an away for photography in 1896 from the prestigious and avant-garde Munich based magazine, Jugend, where he was employed for a time. During his early years as an artist he is said to have lived and worked in an unheated studio, always been behind with the rent and managed to charm the empty handed landlord into staying for tea and chat when he came to (not) collect the rent!
He attended his first Zionist Congress in 1901 and helped
Martin Buber
organise an art exhibition. His legacy includes a number of illustrated books, graphic works including advertising materials and political posters whilst his designs can still be seen on postcards and are often featured in books on Israeli art. I am lucky enough to own two copies of of his most famous works - Juda, published in 1900 and Lieder des Ghetto (Songs of the Ghetto) from 1903. Both books came from the wonderful Trionfo bookshop in Jerusalem that I have previously written about
here.
Juda is the more extensively illustrated of the two works, featuring stunning representations of the story of Pesach (passover), Joab, Sodom and Gomorrah and other Biblical episodes. The theme of the return to Zion (Israel) is picked up in the illustrations of the story of Pesach, where we see Moshe (Moses) in front of the pyramids with the word Zion (ציון) clearly set out in Hebrew. The areas of text are surrounded with decorative borders showing plants, flowers and fruit in classical art nouveau style and demonstrating the influence Lilien and Raban must have had on each other.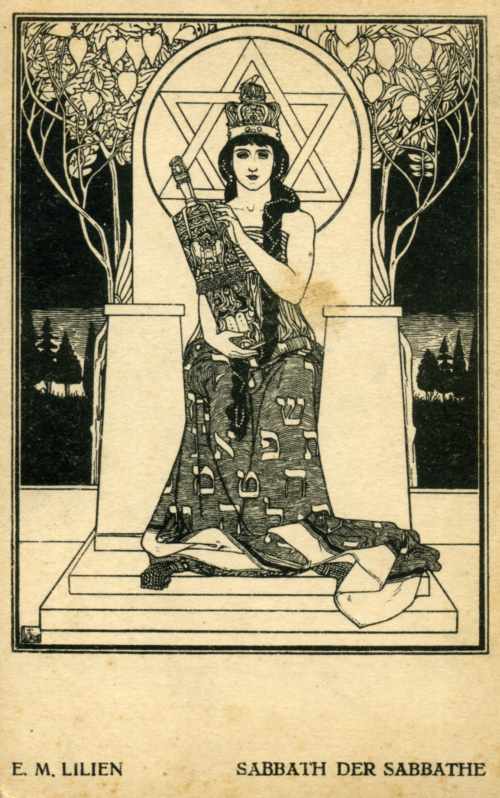 Lieder des Ghetto is exactly what it says it is - a collection of songs telling the stories of the impoverished and often oppressed Jews of Europe, beautifully and lovingly illustrated with a range of images of Jewish tailors; a sea scene with a exhausted and despairing Jews caught in a storm watched over by the grim reaper, scythe and all as the waves lash the ship on its journey to Eretz Israel; an elderly Jew in site of Jerusalem but caught in thorns and threatened by snakes as he attempts to reach his goal, as well as some highly stylised depictions of redemption including a winged and naked Herzl playing the harp! Not yet thirty when these classic works were produced, the longing for Israel and Lilien's viewing of return as the redemption of the Jewish people is very clear from illustrations. Also clear are the barriers placed in the way of this - the raging sea, the thorns, snakes and death itself.
Whilst working on these masterpieces of Zionist art, Lilien also had to earn a living. Like Raban and many others of the time, he also worked on producing advertising materials. The most impressive of his work in this genre has to be the advertisement he produced in 1899 for the newspaper the Berliner Tageblatt. Completely representative of its time, it rivals the works of better known European artists of the Jugendstil genre including the Czech
Mucha
and Austrians
Moser
and his contemporaries. I have another very little known piece of commercial work he produced - a copy of e 1905 corporate brochure for the "Samoan Rubber Company" - the cover of which shows Lilien's somewhat idealised but visually impressive depiction of a Samoan scene! He also produced a large number of pictures of women - the young and beautiful, but also the aged and experienced. These works are much less well known than the more Zionist/ Bezalel style works and were the subject of an excellent exhibition at Israel's
Tal Gallery
in Kfar Vradim in 2008.
A founding member of the Democratic Faction of the Zionist movement with
Chaim Weizmann
and the aforementioned Buber, he was not to live to see his dream realised, dying in Badenweiler, Germany in 1925. Although he did not see a newly independent Israel, he contributed significantly to the idea of the re-established state and left some of the most widely recognised and artistically admired images of the yearning to be restored from exile. A Jerusalem Street is named in his honour.